The Colt
Ruben is the other half of our American Idol naming theme in 2004. He is a sweet, people oriented and very talented young horse. His gentle nature is occaisionally overridden by his desire to be an imp, but only in the most amusing fashion – out in the pasture!
2 Weeks
Roo was well received at his foal inspection and earned a First Premium Award. He was sold as a two year old to an adult amateur and was her reliable riding horse until a change in her circumstances returned him here to Watermark Farm to be sold. His family history points him toward a career that involves a bit of jumping as well as dressage training, so we hope to find him a career where he can shine to his full potential.
Rosentau is well known in Germany for producing trainable horses with correct gaits and above average talent for dressage.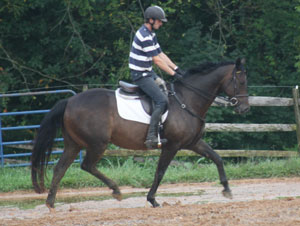 5 Years