Avebury's offspring are clearly stamped with his strong familial resemblance from the tips of their sculpted ears through their smooth, well proportioned bodies and graceful movement. They possess his tractable temperament and good character.
As breeders of several generations of his ancestors, it has been fascinating to observe the obvious characteristics which have transmitted to his offspring. As a long yearling, son About Dun is very reminiscent of Dynasty's full brother Dynamite with his clear, smooth lines and long legs. April Moon is a more refined Double Bounce (Dynasty's full sister) with greater scope and power in her gaits. Both youngsters will begin the backing process in the spring of 2010 and we are quite excited to hear and see their progress.
Avebury's son Aloysius WF was Site Reserve Champion at his foal inspection with a Premier Award and a score of 8.8. Like his sire and damsire, Aloysius has clean lines, a well proportioned frame and exceptional engagement of the hind quarters. As he is growing and developing as a weanling there is great pleasure in observing the strong stamp of his ancestors that are clearly shown in his movement, good nature and balanced temperament. At the conclusion of the 2009 Inspection Tour, Aloysius WF place Third in the East Coast Breeder's Division against some very fine young horses.
With his high percentage of refining blood, Avebury WF is an excellent choice for mare owners looking to refine their mare's build while maintaining good bone, substance and power from the hindquarters.
Breeding Notes
Avebury WF is permanently licensed as an AWR approved stallion. As his career progresses we can present him to additional registries for breeding approval by request.
Mare Matching
Thus far in his breeding career, Avebury WF has been bred to mares with a high percentage of TB blood (>50%) with outstanding results. His get are consistently stamped with his good bone, strong toplines, correct legs and very attractive faces. In choosing a stallion here at Watermark Farm, Avebury is an excellent choice for mares needing length of leg, strong hindquarters and a more attractive head. The foals have been very attractive from day one and very suitable for showing in hand with their balanced conformation, good temperament and above average movement.
The three most commonly used words to describe Avebury's offspring are: Leggy, Elegant and Powerful.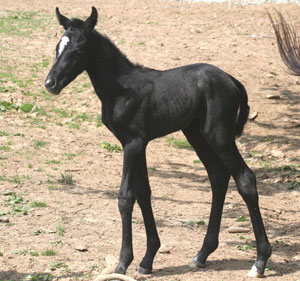 April Moon 5 Hours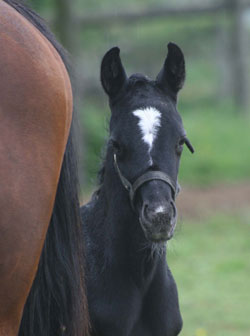 April Moon 6 Days
April Moon 6 Days
April Moon at her foal inspection (2½ Months)
April Moon 18 Months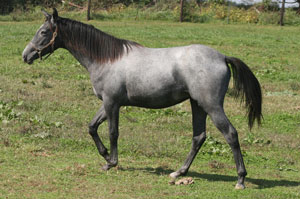 April Moon 18 Months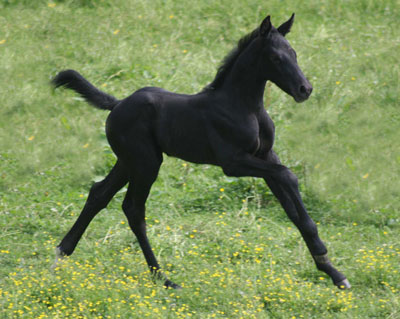 Aloysius WF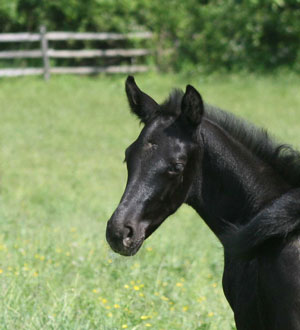 Aloysius WF
Aloysius WF at his foal inspection
Photos courtesy of A & A Photography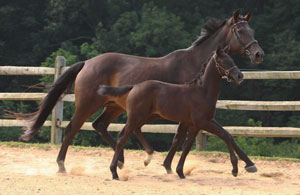 Aloysius WF at his foal inspection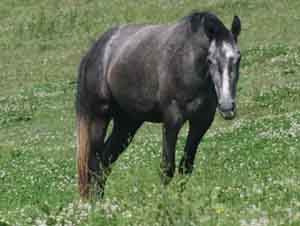 Aloysius June 2012
About Dun 2½ Months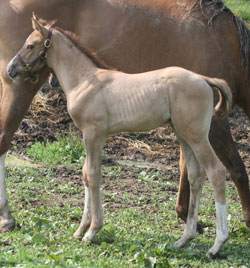 About Dun 3 Months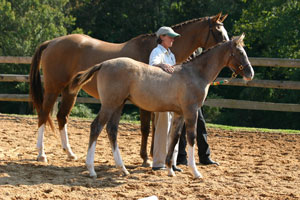 About Dun at his foal inspection (5½ Months)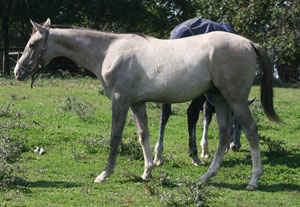 About Dun (16 Months)
Avebury's first foals were born in 2008 and are a daily delight to their owner, Hoppy Stearns at Whizard's Lair in MD. The filly April Moon is out of Hope xx (Babamist – If Only – Flashy Fleet) and she has inherited her sire's beautiful face, strong top line and powerful gaits. She has been warmly received at the recent AWR inspection with an overall score of 7.3. At the time of her inspection, she was a bit rump high and yet her strong quality shone through clearly with her calm nature, good movement and strong engagement of the hind quarters. As the winter has progressed into spring, owner Hoppy is pleased to report that "Luna" continues to be cooperative and willing to handle. Her lithesome appearance and graceful gaits indicate that she has potential for the A hunter competition ring, much like her dam's full sister who competes in a prestigious A Hunter barn in Maryland. As a three year old, Luna was straightforward to begin her undersaddle training and very uncomplicated as a riding horse to bring along. We will add new photographs shortly to give you a glimpse of this delightful filly as she is maturing.
Luna has been sold to a fabulous event home! Check out her recent video and what her owner has to say - "April Moon at Lucinda Green clinic at FHI last week. What a magically mare, by Avebury WF! This was her first time going xc, and she was amazing! Leading horses over ditches, through water, and up and down the banks... Looking forward to her future, and want another!" ~KH

June 2013
In early May 2009, our promising broodmare Amelia WF (Again and Again – Aly North xx – Bold Lad xx) gave birth to a stunning black colt by Avebury. We have named him Aloysius WF in memory of A.A. Steiert who imported Abundance in 1965. Aloysius has drawn high praise from our friend Dorit in Germany. In a recent email to Ellie discussing the 2009 foals Dorit said, "the bay is super, [but] the black, I have no words."
Needless to say, we are quite pleased with Avebury's first foals and are looking to the future with him as a valuable contributor to the breeding program. Aloysius did not disappoint at his Foal Inspection! He earned high praise from the judge with the following comments: "Excellent sporthorse colt, lots of presence; elegant; shoulder correct length and slope, strong croup. He is a leggy colt in correct proportion, tracks up correctly at the walk, good floating trot, even canter." His scores were as follows:
Type: 9
Frame: 9
Conformation: 8.5
Movement: 8.5
Overall Score: 8.8
Premier Award Winner
Aloysius WF place Third in the East Coast Breeder's Division of the 2009 Foal Futurity behind stablemate Dolce Elise WF (overall North American Champion) and a Rousseau/Weltmeyer colt. Congratulations Avebury WF!
June 2014